Amsterdam tourist attractions.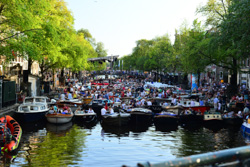 Many cruise ships arriving in the Dutch capital berth at our unique premises on the banks of the IJ in Amsterdam. Passenger Terminal Amsterdam (PTA) team welcomes 300,000 passengers on an annual basis and efficiently docks the approximately 150 ships carrying these passengers.
Amsterdam is a beloved tourist destination all year round, for new and old visitors alike. With its vast cultural inheritance, it is also a popular destination for cruise liners. The Passenger Terminal Amsterdam where cruise vessels moor is located in the heart of the city centre, with Amsterdam Schiphol Airport at arm's length. The handling of luggage and passengers is of high quality at the port of Amsterdam. The amount of cruise liners that call at the port of Amsterdam increases annually.
Destination Amsterdam
Visiting Amsterdam remains a unique experience, just like a cruise. There is a fairytale quality to the tree-lined canal streets of Amsterdam. Boutiques, cafes, apartments and hotels may hide behind the facades of the gabled townhouses, but the look of this beautiful old city has not changed much since its 17th-century Golden Age. The historical city centre is a world heritage site and compact living museum where everything is within walking distance, from the diamond cutters to the world famous museums and art galleries. And Amsterdam outside the canal ring also offers fascinating sights, beautiful excursions and rich history.
Amsterdam is small enough that much of the city can be covered on foot, allowing visitors to savor sights such as the charming no-two-alike gables atop the houses, houseboats bedecked with potted greenery and masses of blooms in the colorful, floating flower market.
Cruise ships dock at the Passenger Terminal Amsterdam (PTA) from where visitors can easily walk to the centre. The terminal has a large reception hall, extensive catering and shopping facilities and tourist information office.
The Central Station and bus terminal, with its arrival and departure hall for coaches, means easy links for travellers across the country. There are many mooring facilities for touring boats and inland cruise operations. Passengers can aslo travel to the centre of Amsterdam very easy by foot, public transport or touring boat. The terminal also hosts international events and exhibitions.