Hammerfest  tourist attractions.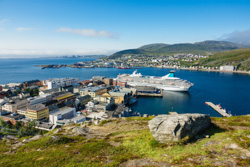 The World´s northernmost city with over 9,000 inhabitants, Hammerfest, is a municipality in Finnmark county, Norway. The administrative centre of the municipality is the town of Hammerfest. There are some villages farther north, but none larger than 2000 people. Some of the main villages in the municipality include Rypefjord, Forsøl, Hønsebybotn, Akkarfjord, and Kårhamn. Hammerfest is one of the capitals of Sami culture.
The town of Hammerfest is a compact and colourful micro-metropolis. The square in Hammerfest (Sommertorget) is at the heart of the town centre, a few minutes' walk from the express liner quay and the quay area where cruise ships and express ferries berth. Streets are buzzing with life and there is a great deal of activity here in the summer, both from local residents and travellers, express liner passengers and tourists from the many cruise ships which visit during a short and hectic summer season. When the cruise ships are in port, the atmosphere can be positively carnival-like, and when it is time to catch a bite, you can choose between everything from traditional Sami food served in a Sami turf hut at Mikkelgammen, to the world's most northerly Chinese restaurant.
The natural surroundings are the real thing in Hammerfest, and it is to be enjoyed actively! In these areas, one finds fjords and straits, skerries, rivers and lakes, moors, valleys and a hint of wilderness plains. There is always the season for new and different discoveries of nature. Regardless of the time of year you visit – with the mystical Midnight sun, a spectacular thunderstorm or the magical Northern Lights.