Olden tourist attractions.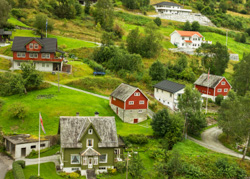 Olden is a tiny village of about 1,000 people in the municipality of Stryn in Sogn og Fjordane county, Norway. Olden is located at the mouth of the Oldeelva river at the northern end of the Oldedalen valley on the southern shore of the Nordfjorden. It is a quiet place that remains uncommercialized with most of the inhabitants engaged in farming. Cruise ships can dock in Olden at a pier not far from is interesting to see life proceeding at a slower pace than in the world's cities. A ten-minute walk from the quay will bring you to the town centre. The town is a part of the Port of Nordfjord, which also includes Måløy, Selje, Nordfjordeid and Sandane.
Olden is the gateway to the Briksdal Glacier (Briksdalsbreen), which has made it a popular cruise ship destination. The Briksdalsbreen is an arm of the the largest glacier in Europe, the Jostedal Glacier. Olden also has easy access to several other arms of this glacier, including Kjenndal and the Boyabreen. The proximity of so many glaciers also results in an abundance of emerald lakes and waterfalls in the area. Some people say that a shore excursion in Olden is like going back in time for its picturesque wooden houses, the forest and their humble inhabitants, and if you add the stunning Briksdal glacier, one of the most famous glaciers in Norway, this is perfect place for refreshing break.
Winter is never far away in the Olden Valley. The largest glacier in mainland Europe, the Jostedalsbre with its many arms covers an area of 487 square kilometers, or Jostedals glacier, flanks the small town of Olden on three sides: to the east, south and west. Peaceful valleys and tidy farms lie in contrast to gleaming glaciers, foaming waterfalls and towering mountains.  A tour to Briksdal, a branche of the Jostedal Glacier that is millions of years old, its most well-known glacier arm, is highly recommended. You can also see the beautiful Lake Olden and its magnificent waterfalls.
The village of Olden and the Stryn region are vigorous and active, with blooming trade and businesses. They have long been known for tourism and industry, but are now also famous for contemporary design. Olden is the main cruise destination in the Nordfjord, but cruise vessels are most welcome in all the Nordfjord ports: Måløy, Selje, Nordfjordeid, and Sandane; each hosting a range of interesting attractions and excursion possibilities.
Briksdal glacier – Briksdalsbreen. Briksdal glacier (Briksdalsbreen) is part of the Jostedalsbreen glacier, located in the Jostedalsbreen National Park. Once you get to it, the glacier and the national park are free to visit. It takes about 45 minutes from Olden[…]