Sognefjord tourist attractions.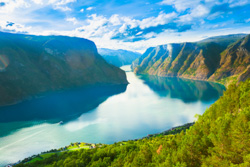 The Sognefjord is Norway's longest and deepest fjord extends more than 200 kilometers inland to the national parks of Jotunheimen and Jostedalsbreen. The area is both dramatic and hospitable, with exciting and invigorating activities for the whole family. The Sognefjord Region includes the municipalities Aurland, Lærdal, Årdal, Sogndal, Luster, Leikanger, Balestrand, Vik and Høyanger.
Sognefjord was created by the Ice Age and the subsequent climate changes. As the continental ice of the area melted, the landscape we see today was created – high mountains and deep valleys. Eventually the areas along the fjords and mountains became inhabited by people who lived off farming the land.
The major attraction of the Sognefjord area is of course the power of its nature and all that is connected to it. Sognefjord offers a broad range of natural phenomena, with the widest and narrowest of fjords, lush valleys, towering mountain ranges and blue glaciers. You will also find anything from isolated mountain farms to quaint, picturesque fruit-growing villages and modern towns.
Sognefjord also offers some interesting national cultural treasures. Five of the oldest stave churches in Norway are found in the area, and the oldest of them all (Urnes) is on UNESCO's list of the most protected heritage sites in the world.
Top things to do and see in The Sognefjord
Fjord cruises/fjord safaris
The Flåm Railway
Aurland Mountain Road and Stegastein View Point
Jotunheimen National Park
Urnes Stave Church
Jostedalsbreen National Park
Almost half of the Jostedalsbreen National Park is covered by the largest glacier on the European mainland – namely Jostedalsbreen. What sets this national park apart from others is its enormous variety of habitats within such short distances.
Jotunheimen National Park Jotunheimen National Park, is characterized by high mountains, glaciers and deep lakes. There are more than 200 mountain peaks rising above 2000 m (6560 ft) in Jotunheimen, and these are the highest mountains in Norway. The three[…]
Flåmsbana – the Flåm Railway One of the highlights of the Norwegian fjords is the spectacular Flåmsbana railway. Experience the Flåm Railway – an incredible train journey from the mountain station at Myrdal on the Bergen Railway and all the[…]
Nigardsbreen
Nigardsbreen is one of the more accessible arms of the glacier. After a short boat ride across the glacial lake, you can get right up close to the blue ice on your own or join guides up onto the ice itself.