Trondheim tourist attractions.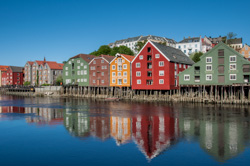 Trondheim was Norway's first capital city, beautifully located by the wide Trondheim fjord in mid Norway. Founded as a trading post by the Vikings in 997 AD, it has the distinction of having been Norway's capital until 1217. But nowdays instead of Viking raiders and Hanseatic traders, you will find jazz musicians and an international student body savouring Trondheim city life.
With a population of just over 172,000, Trondheim is popular as both a cultural and shopping destination, the city's downtown core is scattered with quaint specialty shops as well as larger retailers around the pedestrian-only Nordre and Olav Tryggvasons gates. Nidaros Cathedral in Trondheim is the largest medieval building in Scandinavia and the most important church in Norway. Since its foundation in 1066 it has been an important pilgrimage destination, thanks to its relics of St. Olav, a Norwegian king and national hero.
The city's cafes spill out onto cobblestone streets lined with colourful wooden buildings, while the twin towers and copper-clad spire of Europe's northernmost gothic cathedral frame the southern skyline. With wide streets and partly pedestrianised heart, it's a simply lovely city with a long history. Fuelled by a large student population, it buzzes with life, has some good restaurants, and is rich in museums. Trondheim experiences no darkness from mid-May to mid-July, and while it benefits from a mainly mild maritime climate, good skiing can be had in the surrounding areas.