Vik tourist attractions.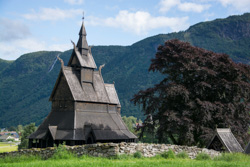 Vik is a municipality in Sogn og Fjordane county, Norway and it consists of several rural villages, Vik, Vangsnes, Arnafjord, Feios and Fresvik. It is located on the southern shore of the Sognefjorden in the traditional district of Sogn. The administrative center of Vik is the village of Vikøyri. The whole Vik area has approximately 2.800 inhabitants wich find their jobs in agriculture, industry and different trades and services.
At the heart of the Sognefjord
Vik is an excellent starting point for excursions across the beautiful high mountain area from Vikafjellet to Voss and Flåm. Vik offers a variety of attractions, shops and cafes within walking distance from the port. Try the locally produced Gamalost cheese, its roots going back to the Viking Age. Vikøyri Cultural Walk tells you the story of the old Shore Dweller site. The Silver Ring Walk takes you to some of the most important attractions, such as Hopperstad Stave Church and the medieval Hove Church.
Two old churces in Vik
In the latter half of the 12th century a stave church was built at Hopperstad and a stone church at Hove. Both churches are renovated and are used by villagers and tourists. The Hove church was private owned and indicates Hove being the home of chieftains with great wealth.