Geirangerfjordm tourist attractions.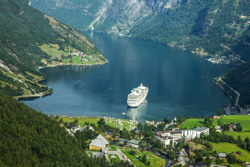 The deep blue Geirangerfjord is surrounded by majestic, snow-covered mountain peaks, wild waterfalls and lush, green vegetation.
The Geirangerfjord is one of Norway's most visited tourist sites. The Geirangerfjord is rated as the best preserved UNESCO World Heritage Site by National Geographic. It is definitely the scenery that is the main attraction of the area. The narrow fjord arms and steep mountains diving into the deep blue water can best be experienced by taking part in an excursion in this most secluded part of the fjord landscape. An adventure never to be forgotten.
The Geirangerfjord is one of the region's smallest fjords, but also one of its most breathtaking. A convoluted branch of the Storfjord, it cuts deep inland and is marked by impressive waterfalls, with a village at either end of its snake-like profile – Hellesylt in the west and Geiranger in the east. Of the two, Geiranger has the smarter hotels as well as the tourist crowds, Hellesylt is tiny and not very interesting, but it is but a troll's throw from the magnificent Norangsdal valley.
The Geirangerfjord is a 15 kilometre long branch of the Sunnylvsfjord, which is a branch of the Storfjord (Great Fjord), cutting in from the Atlantic coast just south of the coastal town of Alesund. The tiny village of Geiranger is located at the end of the fjord.
Geiranger is the tiny village and rural community at the eastern end of Geirangerfjord. Hellesylt village sits at the western end of Geirangerfjord, and from there the fjord does a sharp turn north with the name Sunnylvsfjord. The latter fjord is in turn connected to the main fjord, aptly named Storfjord (Large fjord), at small town Stranda. Strictly speaking Geirangerfjord is merely the last section of the larger Storfjord system. Storfjord is one of main fjord systems in Western Norway. While Geiranger and Hellesylt are small villages, Stranda is the municipal centre.
Along the sides of the fjord, there a number of abandoned farms. The farms that are most commonly visited are Skageflå, Knivsflå and Blomberg. Skageflå can also be reached on foot from Geiranger, while the others can only be seen from the fjord.
The Geirangerfjord also has several impressive waterfalls. The two most notable waterfalls in the Geirangerfjord are 'de Syv Søstre' (the seven sisters) and 'Friaren' (the suitor, also called the wooer). The two waterfalls face one another across the fjord, and the suitor is said to be trying to woo the sisters opposite.
Brudesløret (the bridal veil) is another waterfall on the fjord, thus named because it falls delicately over one rocky edge, and when seen backlit by the sun looks like a thin veil over the rocks.
Geirangerfjord offers glistening blue waters and fairytale mountains and is known for its characteristic high waterfalls and forgotten mountain farms. Known as the true jewel of the Norwegian fjords, you will not get bored when visiting this truly remarkable place.