Stavanger tourist attractions.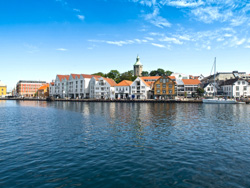 Stavanger is the gateway to the Norwegian fjords. The city centre of Stavanger is quite compact, with original dockside warehouses and pretty 18th-century streets climbing up from a bustling harbour, which makes it easy to reach most attractions on foot. Old Stavanger offers Europe's best preserved wooden house settlement, consisting of more than 170 white wooden houses.
Stavanger is a university city, and home to a number of institutions of higher education and research. This is reflected in the city's urban and lively atmosphere, and in the varied assortment of shopping and dining opportunities. In 2008 Stavanger and Sandnes were designated European Capital of Culture, a testimony to the variety and wide range of cultural events and activities in the region.
On your walk you can easily stop by some of the city's many museums, such as the Norwegian Petroleum Museum, Stavanger museum of Fine Arts and the Norwegian Canning museum. You will also find Stavanger's Cathedral from 1150 AD and the charming old city, consisting mainly of small, white wooden houses. The city relies on the environment for only some of its entertainment, and hosts a wide variety of events and festivals designed to keep everyone occupied throughout the year. From the Village Festival that focuses on health and physical activity, to the May Jazz Festival each May, and the International Chamber Music Festival in August, you certainly won't be bored here. The Gladmat Food Festival, usually held at the end of July, is a large happening in the region, and attracts around 250,000 visitors every year.
Prekestolen – Preacher's Pulpit
One of the most popular attractions is Pulpit Rock. More than 250,000 people hike to this cliff, 600 meters above sea level. Undoubtedly the most striking feature and most popular tourist attraction in the Stavanger fjord is the Prekestol (Pulpit Rock), a flat-topped crag some 1,960 ft above the water. It can be reached from Stavanger by road and ferry, and involves a two-hour trek. It's a sheer drop, so definitely not for the faint of heart. However, for those who venture out here, the views are spectacular.
Lysefjord
To the east of Stavanger and a pleasant trip by boat lies Lysefjord, a dramatic cleft in the mountains 23 miles long, up to 1.25 miles wide, revealing stunning bright green water. Topping it all are the sheer walls of rock rising 3,300 ft above the fjord. This breathtaking landscape is one of the best sightseeing trips in the area.