Flam tourist attractions.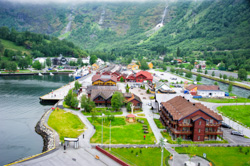 The small charming village of Flåm with its 350 inhabitants is situated in Aurland municipality, which consists of Flåm, Aurland, Gudvangen and Undredal. Flåm is situated at the innermost part of the Aurlandsfjord, a tributary of the 204 km long and up to 1308 m deep Sognefjord. Flåm and Aurland are two of four harbours that welcome cruise ships to Aurland Harbour Authority. Centrally located in the fjord region, Flåm offers some of the most popular attractions in Norway. Flåmsbana – the Flåm Railway – is widely recognized as one of the steepest and most beautiful railways in the world. From Flam there are fjord cruises to the UNESCO World heritage, dramatic Naeroyfjord – the narrow fjord, to the tiny fjord village of Gudvangen. In Flam you can also board the express steamer to Bergen, taking you through the magic Sognefjord, with ports of call in fjord villages such as Leikanger, Balestrand & Vik.
After the Bergen Railway was opened in 1909 Flåm became a crossroads for passengers, post and freight traveling on the trains between Oslo and Bergen and on the steamships on the fjord.
Flåmsbana – the Flåm Railway One of the highlights of the Norwegian fjords is the spectacular Flåmsbana railway. Experience the Flåm Railway – an incredible train journey from the mountain station at Myrdal on the Bergen Railway and all the[…]