Kiel tourist attractions.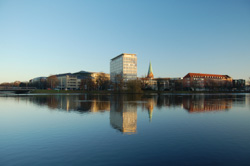 Kiel is a port on both sides of the Kiel Fjord, an inlet of the western Baltic Sea, and lies at the eastern end of the Kiel Canal. The name Kyle (meaning "fjord," or "spring," possibly derived from the Anglo-Saxon kille: "a safe place for ships") was used for the settlement as early as the 10th century. Founded in the 13C, the city of Kiel, because of its geographic location at the far west end of the canal linking the North Sea to the Baltic, has strong connections with navigation and maritime trade.
Kiel has a long shipbuilding and naval tradition but today it is characterised by its vibrant student scene, laid-back lifestyle and urban flair. You can sense this atmosphere from the city's beautiful setting on the Kiel Fjord, its modern and spacious city centre and Dänische Strasse, a street of late-19th century buildings full of maritime charm in the heart of Kiel.
The German submarine fleet
During the war, Kiel was the home base for the German submarine fleet, you can see and even walk through the only surviving Second World War U-995 submarine. There is also a "Marine-Ehrenmal" (Navy Memorial) from 1936 with a 280-foot-high tower and an observation deck, which offers wonderful views of the region. An underground memorial hall, dedicated to sailors of all nationalities who died in the World Wars, and a museum detail the history of the German Navy. The bombing destroyed almost all historic buildings in Kiel, even the older looking buildings were built after WW2. So, if you come to the "Kieler Schloss" (Kieler Castle) don't be disappointed, there isn't much left of the original building. During the rebuilding after WW2, mostly modern architecture was used.
Kiel has a relatively good public transport system based on buses and ferries, both operated by VRK. The taxi service is good, but expensive. Kiel is very flat, and bicycles can be hired at various places. It is quite an easy day to ride from Kiel to Laboe, catch a ferry to Strande, and cycle back to Kiel.
An art gallery and botanical gardens, the oldest in Germany, are near the old university grounds. The city features shipping and ethnography museums, and the Institute of Marine Biology contains an aquarium. The main tourist attraction is the Kieler Woche (Kiel Week) at the end of June, an international regatta and cultural festival.
Kiel Canal
Kiel is home to the world's busiest man-made canal, the 100-kilometer long Nord-Ostsee Kanal (Kiel Canal), which connects the Baltic with the North Sea. You can cycle along the canal in its entirety or take a day trip; the bike path goes right along the water so you can ride side by side by side with giant container ships. There are lots of restaurants, observations points and hotels along the bike route, which is very bicycle friendly.