Le Havre Port tourist attractions.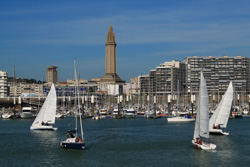 Considering it was bombarded 146 times during WW2, you might think there'd be little left to see in Le Havre – France's second-largest port (after Marseille). The rebuilt city, with its uncompromising recourse to reinforced concrete and open spaces, is admittedly short on old-school charm.
A Unesco World Heritage Site since 2005, Le Havre is a love letter to modernism, evoking, more than any other French city, France's postwar energy and optimism. The centre was completely rebuilt by the Belgian architect Auguste Perret, whose bright, airy modernist vision remains, miraculously, largely intact. The most striking example of Perret's architecture is the concrete Eglise St Joseph, shaped like a lighthouse, with 12,768 pieces of coloured glass inside the 107m high octagonal lantern tower where the colours reflected differ throughout the day due to the placement of the sun. Built to commemorate the victims of the Allied bombings in 1944, it is an architectural masterpiece of the 20th century and is well worth visiting. The 16th century cathedral is one of the few buildings left of that era that survived the bombing although it did suffer damage. At the Appartement Témoin, a show apartment from the 1950s, you can discover what life was like in the 50s at the birth of consumerism and mass-production.
Numerous museums and galleries provide cultural interest, and in summer, there are several beaches for the sun-seekers.
Malraux Art Museum
Museum of Natural History
he Corinne le Monnier Gallery
Saint Joseph's Church
Japanese Garden
Day trips in rural Normandy