Hamburg tourist attractions.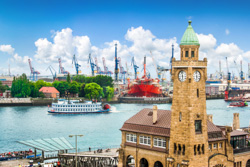 Straddling the Rive Elbe, Hamburg is Germany's second largest city and is affectionately known as the Gateway to the World, thanks to its rich maritime history and its privileged position as one of the premier sea ports in Europe. Because of this connection to the sea, Hamburg is now one of the best places on the planet to learn more about the maritime traditions of old, while also sampling some top-class seafood.
The best way to take in the Hamburg's culture and history is to hop aboard the Maritime Circle Line, a shuttle service which connects all of Hamburg's most important maritime attractions. Among the sites worth exploring in greater detail is the International Maritime Museum, which is laid out over ten floors and contains the world's largest collection of model ships and other artefacts relating to the navigation of the seas.
Hamburg is also home to some fantastic old churches, with the St Michaeliskirche being among the most noteworthy. Elsewhere, Miniatur-Wunderland is a terrific place for all big kids, as it houses some amazing model railways and incredible miniature alpine landscapes.